My first scenario paintball game (and second time ever playing paintball) was Old River Paintball's 2011 Holy Grail.

We had the good fortune to be playing (and camping) alongside Maverick's Pump Chump buddy Lee and his teammates from Trigger Happy. Look in the dictionary under legerity, you should find team Trigger Happy. Not only are they skilled, they are also friendly, fun, family oriented and fluent in Monty Python. As we watched the movie in their camp Friday night, I knew I had found my tribe.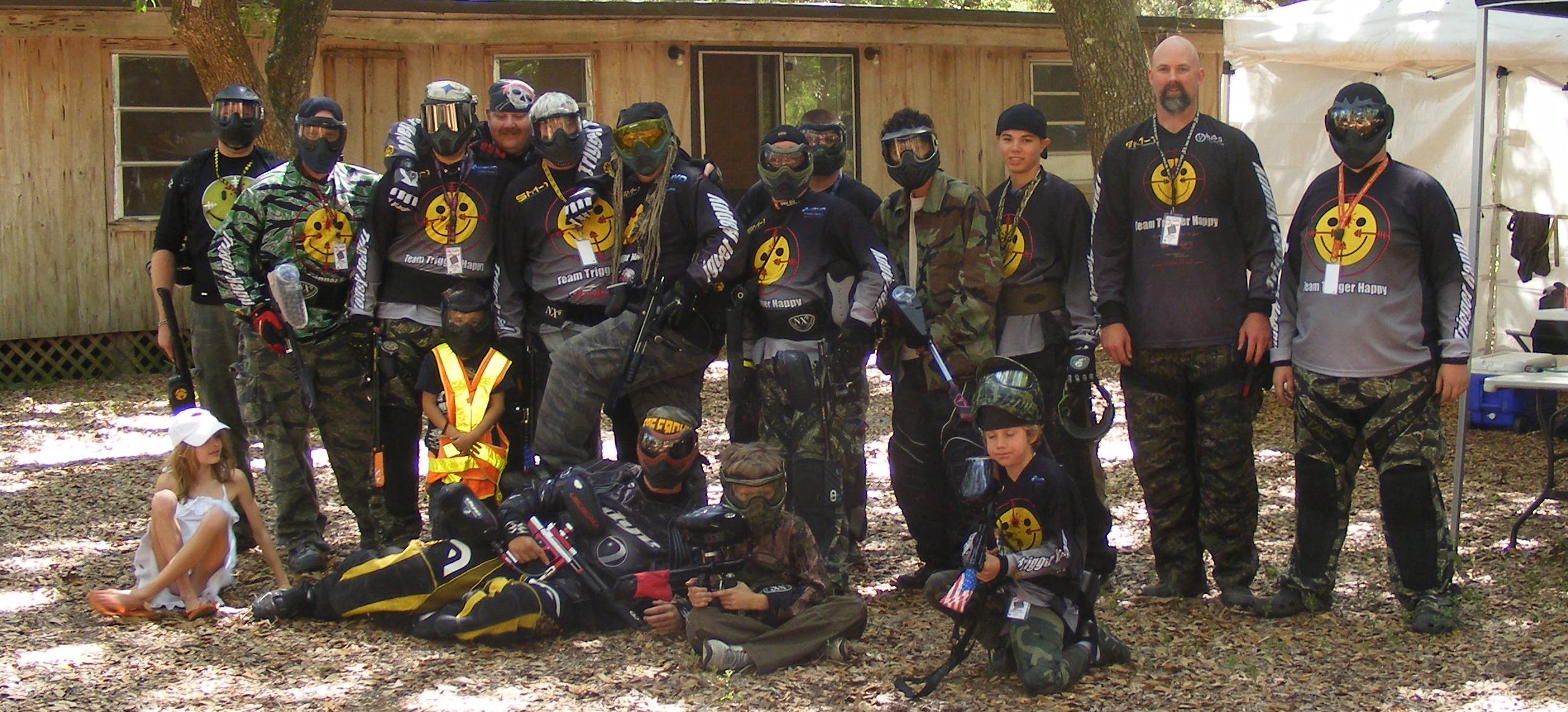 We found ourselves on Team French (cue surrender jokes here). The event was packed with some outstanding players; team jerseys and

T's with names that made my newbie head spin…Doom Troopers, Panther Elite, South Beach Pimps, and Bad Monkeys, just to name a few. It was a sea of neon jerseys and camo. I was amazed to learn that paintball includes tanks, grenades, and bazookas. The detail in scenario planning blew me away; this was not just "us vs. them". Rabbits, coconuts, castles, missions, King Arthur and the French General exchanging jeers and threats using actual movie lines made the game so much more fun. Finding ourselves outgunned on recon, me alone and crouched behind a log hearing the ominous sound of a tank approaching and automatic paintball fire nearby, and being a part of a massive final daily battle were new and thrilling experiences for me. If you have never played scenario paintball, you have GOT to consider doing so.
Old River Paintball has an excellent field for paintball play.

Located in Ocklawaha, in the Ocala National Forest, it provided two bases (castles), plenty of cover both natural and manmade, and lots of area for camping. The terrain ranged from open areas loaded with bunkers, to heavily wooded, to a bit swampy. There were the horrors of ticks and 3 days of port-o-let dependency (common to many outdoor events) but what is joy without a little suffering?
Rookie mistakes: At the final battle of the day Saturday, starting play with the French fort surrounded by the entire English team, my gun would not fire. Dodging stray shots I ran inside the fort, where I desperately beat on my cocking rod (ahem). It suddenly worked, but soon I was hit and had to leave to retag back in. This time I found a

bunker behind the fort and resumed play. Later, Maverick was kind enough to explain my gun has a safety button…DUH. I also foolishly brought only my old softball cleats to wear when playing. I blew out those soles within the first hour (luckily, our General was kind enough to wrap them in duct tape for me). Day two I went into the field of battle to take pictures; despite my yellow hoodie and hands-in-the-air posture when not shooting film, I took more hits than when I was a player. I was so focused on filming the players in front of me I failed to notice the team moving into position behind me, and I was caught in a sudden crossfire. Next time I will bring a bright safety vest and watch my back better.
A word on sportsmanship. It would be very easy for me as a newbie to be soured on this experience. There were several opponents "shooting hot" and I have the exceptional bruises to show for it. This was a bit out of control Saturday

, The refs did a great job but they cant be everywhere. However, they had refs out in force Sunday with hand held chronos, and rumor has it they sent over 18 English off the field in the first round of play. There was also an epidemic of overshooting, and just a few whiners who screamed a lot for no good reason (you're hit Bro, get out and get over it…) A French player took a close-range hit to the neck when he was bunkered by an overzealous (or sociopathic?) opponent and had to be taken away in an ambulance Saturday evening… The field staff reacted to this emergency with true professionalism, urgency, and concern, which was very reassuring. Later, we were all happy to learn that he was ok. Despite this, there were many displays of sportsmanship, teamwork, skill,

and bravery. A kid, maybe all of eleven years old, walked into the French fort and "blew it up". He received an award at the closing ceremony from the very General whose castle he violated. One of the sportsmanship awards went to Team Trigger Happy not only for playing with integrity, but also for their efforts in calming some tension among the ranks.
Our journey home: tired, bruised and sore, but happy. My weekend had begun with a deeply felt sadness both for a death that hit a friend hard, and from seeing two former students (kids I worked with in therapy groups in the not so distant past) in ruin; one arrested for rape, and another a victim of domestic unrest on COPS. After meeting exceptional people, experiencing the phenomenon that is scenario play and of course the actual thrills that come with playing paintball, I returned home with a soul that was soothed.

In my article "Making my mark" I wrote of how my very first paintball experience made its mark on me, I was hooked. My second paintball experience hit me on a deeper level (literally and figuratively-check out this bruise!). Paintball is not only fun, it is a heck of a coping skill.